Prices
Prices are per person per day of half board. Prices, summer and winter rates, are for a minimum stay of 3 nights.
Prices includes the following services:

- a welcome cocktail
- a rich breakfast buffet
- dinner with 5 different menu
- a salad and vegetables buffet
- Wellness & fitness centre is opened every day from 3.45pm to 7.30pm (not included: whirlpools, facial solarium or sun shower)
- check-in time: from 15:00; check-out time before 13:00
- summer motorcycle garage (limited places) and a safe room for parking bicycles
- an equipped ski deposit with ski boots dryer
- 2 private ski bus available to guests all day long (Winter)
- once a week the typical Ladin dinner by candlelight during the winter
- the restaurant is opened every day with a " menu à la carte".
- San Silvester Gala Dinner and Mid August Holiday Gala Dinner

Reductions per person per day:
Motorcyclists/cyclists = 5% + 5% (if you pay cash) = 10%
Groups reductions based on the number people and on request
The only B&B accommodation provides a reduction.

Children reductions:
Children in bed with both parents have the following reductions:
- 0-2 years: free;
- 3-5 years: -50%;
- 6-12 years: -30%;
- more than 13 years: -10%

Supplements: Supplements per person per day:
Single room supplement = 20%
Double room used as a single = 60%
Full board supplement € 18.00 - € 25.00

Payment accepted:
We prefer cash but You can also pay by credit card or cash point card (VISA, Maestro, MasterCard, Eurocard, card ED).
Cheques are not accepted

Cancellation / Termination
Reservations can be cancelled only in writing. For cancellations up to 90 days before the day of arrival the deposit will be refunded; after this date You will lose all the deposit.
The EU norms are valid for cancellation of hotel accommodation and travel in general. In case of stay cancellation, late arrival or earlier departure, You will be charged for the entire accommodation period booked or we will be entitled to retain the deposit. The international cancellation conditions are valid. (Place of Jurisdiction: Belluno) We recommend you to take out a travel cancellation insurance and eventually on the travel itself.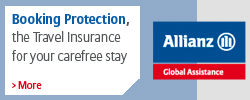 • Deposit insurance >
• Stay insurance >


Penalty:
Anticipating the departure or postponing the arrival involves a penalty of 70% of the daily cost of the stay.
Transfer Service
If you arrive by train, bus or plane will be glad to pick You up at the train station, bus station or at the airport,at a low price. Please just tell us on time Your arrival.

Smoking and non-smoking
Inside the hotel, including bedrooms, It not allowed to smoke.

Meals
meals not taken will not be refunded..

Internet
Free Wi-fi

Pets
Only on request, we admit Your lovely pets, with a daily supplement (food excluded). However, we hope You will understand that pets are not admitted in the restaurant dining room and Wellness Centre. Any damage to property and / or persons shall be borne by the owner of our lovely pets too.

Phone
you want your loved ones can reach you by phone while You are on holiday, you can give them the following number: 0039 (0) 436.79329 0039 (0) 436.79329. Calls will be diverted from the reception in Your room. SKIPE: hotelalforte