Prices
Prices are per person per day of half board. Prices, summer and winter rates, are for a minimum stay of 3 nights.
Prices includes the following services:

- a welcome cocktail
- a rich breakfast buffet
- dinner with 5 different menu
- a salad and vegetables buffet
- Wellness & fitness centre is opened every day from 3.45pm to 7.30pm (not included: whirlpools, facial solarium or sun shower)
- check-in time: from 15:00; check-out time before 13:00
- summer motorcycle garage (limited places) and a safe room for parking bicycles
- an equipped ski deposit with ski boots dryer
- 2 private ski bus available to guests all day long (Winter)
- once a week the typical Ladin dinner by candlelight during the winter
- the restaurant is opened every day with a " menu à la carte".
- San Silvester Gala Dinner and Mid August Holiday Gala Dinner

Reductions per person per day:
Motorcyclists/cyclists = 5% + 5% (if you pay cash) = 10%
Groups reductions based on the number people and on request
The only B&B accommodation provides a reduction.

Children reductions:
Children in bed with both parents have the following reductions:
- 0-2 years: free;
- 3-5 years: -50%;
- 6-12 years: -30%;
- more than 13 years: -10%

Supplements: Supplements per person per day:
Single room supplement = 20%
Double room used as a single = 60%
Full board supplement € 18.00 - € 25.00

Payment accepted:
You will get a 5% discount for a cash payment, but You can still pay by credit card or cash point card (VISA, Maestro, MasterCard, Eurocard, card ED).
Cheques are not accepted

Cancellation / Termination
Reservations can be cancelled only in writing. For cancellations up to 90 days before the day of arrival the deposit will be refunded; after this date You will lose all the deposit.
The EU norms are valid for cancellation of hotel accommodation and travel in general. In case of stay cancellation, late arrival or earlier departure, You will be charged for the entire accommodation period booked or we will be entitled to retain the deposit. The international cancellation conditions are valid. (Place of Jurisdiction: Belluno) We recommend you to take out a travel cancellation insurance and eventually on the travel itself.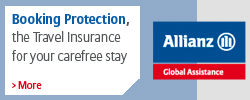 • Deposit insurance >
• Stay insurance >


IMPORTANT NOTICE: CHANGE CANCELLATION CONDITIONS RELATING TO THE "CORONA VIRUS SITUATION"

We inform you that, the following modification totally replaces the cancellation / cancellation conditions reported above and refers to the decree law 17 May 2020 nr. 18.

Those who wish to cancel the booking made will not lose their deposit but will be entitled to use it within 12 months from the booking date and a voucher will be issued indicating the amount paid.


coronavirus - facsimile of voucher - article 88, decree-law 17 March 2020 n. 18 (Official Gazette 17 March 2020, n.70).

Article 88 of the decree-law of 17 March 2020, no. 18 extends the possibility of using the voucher to residence contracts, in the event of supervening impossibilities pursuant to article 28 of decree-law no. 9 of 2020 (see our circular No. 89 of 2020).

The provision provides for an exception to the general rules of the civil code, and allows accommodation facilities to issue a voucher to the customer to be used within 12 months of its issue, even if the customer requests a refund.

The voucher is an acknowledgment of a credit which will benefit those who have booked stays, directly or through a travel agency or booking portal, and who are in one of the conditions of impossibility provided for by article 28 of the decree-law n . 9 of 2020.

The provision is applicable to all Italian accommodation facilities, regardless of the customer's nationality, or from the travel agency or portal where the booking was made.

The provision is also applicable to cancellations for "supervening impossibility" referring to stays to be made during the period of validity of the specific containment measures referred to in the various regional and governmental measures that have taken place over time, adopted pursuant to article 3 of decree-law 23 February 2020 n. 6. It must therefore also be considered applicable to cancellations already made, motivated by the epidemic and the restrictions contained in the various provisions.

Please note that the customer must notify the accommodation facility of the occurrence of one of the foreseen situations of impossibility that occurred no later than 30 days after the cessation of the impediment, or the cancellation, suspension or postponement of the event. The accommodation facility, within 15 days of communication, proceeds to issue a voucher of the same amount to be used within one year of the issue.
Penalty:
Anticipating the departure or postponing the arrival involves a penalty of 70% of the daily cost of the stay.
Transfer Service
If you arrive by train, bus or plane will be glad to pick You up at the train station, bus station or at the airport,at a low price. Please just tell us on time Your arrival.

Smoking and non-smoking
Inside the hotel, including bedrooms, It not allowed to smoke.

Meals
meals not taken will not be refunded..

Internet
Free Wi-fi

Pets
Only on request, we admit Your lovely pets, with a daily supplement (food excluded). However, we hope You will understand that pets are not admitted in the restaurant dining room and Wellness Centre. Any damage to property and / or persons shall be borne by the owner of our lovely pets too.

Phone
you want your loved ones can reach you by phone while You are on holiday, you can give them the following number: 0039 (0) 436.79329 0039 (0) 436.79329. Calls will be diverted from the reception in Your room. SKIPE: hotelalforte
WICHTIGER HINWEIS: ÄNDERN SIE DIE STORNIERUNGSBEDINGUNGEN IN BEZUG AUF DIE "CORONA VIRUS SITUATION"

Wir weisen Sie darauf hin, dass die folgende Änderung die oben angegebenen Stornierungs- / Stornierungsbedingungen vollständig ersetzt und sich auf das Dekretgesetz vom 17. Mai 2020 nr bezieht. 18.

Diejenigen, die die vorgenommene Buchung stornieren möchten, verlieren ihre Anzahlung nicht, sind jedoch berechtigt, sie innerhalb von 12 Monaten ab dem Buchungsdatum zu verwenden. Ein Gutschein mit dem gezahlten Betrag wird ausgestellt.


Coronavirus - Faksimile des Gutscheins - Artikel 88, Gesetzesdekret 17. März 2020 n. 18 (Amtsblatt 17. März 2020, Nr. 70).

Artikel 88 des Gesetzesdekrets vom 17. März 2020, Nr. 18 erweitert die Möglichkeit, den Gutschein für Aufenthaltsverträge zu verwenden, falls Unmöglichkeiten gemäß Artikel 28 des Gesetzesdekrets Nr. 9 von 2020 (siehe unser Rundschreiben Nr. 89 von 2020).

Die Bestimmung sieht eine Abweichung von den allgemeinen Regeln des Bürgerlichen Gesetzbuchs vor und ermöglicht es den Unterkünften, dem Kunden einen Gutschein auszustellen, der innerhalb von 12 Monaten nach seiner Ausstellung verwendet werden kann, selbst wenn der Kunde eine Rückerstattung beantragt.

Der Gutschein ist eine Anerkennung einer Gutschrift, die denjenigen zugute kommt, die Aufenthalte direkt oder über ein Reisebüro oder ein Buchungsportal gebucht haben und sich in einer der in Artikel 28 des Gesetzesdekrets Nr . 9 von 2020.

Die Bestimmung gilt für alle italienischen Unterkünfte, unabhängig von der Nationalität des Kunden oder für das Reisebüro oder Portal, in dem die Buchung vorgenommen wurde.

Die Bestimmung gilt auch für Stornierungen wegen "Unmöglichkeit der Überwachung", die sich auf Aufenthalte beziehen, die während des Gültigkeitszeitraums der spezifischen Eindämmungsmaßnahmen vorzunehmen sind, auf die in den verschiedenen regionalen und staatlichen Maßnahmen Bezug genommen wird, die im Laufe der Zeit gemäß Artikel 3 von Gesetzesdekret 23. Februar 2020 n. 6. Sie gilt daher auch für bereits vorgenommene Stornierungen, die durch die Epidemie und die in den verschiedenen Bestimmungen enthaltenen Beschränkungen motiviert sind.

Es ist zu beachten, dass der Kunde der Unterkunftseinrichtung das Auftreten einer der vorgesehenen Unmöglichkeitssituationen mitteilen muss, die spätestens 30 Tage nach Beendigung des Hindernisses oder nach Absage, Aussetzung oder Verschiebung der Veranstaltung eingetreten sind. Die Unterkunft stellt innerhalb von 15 Tagen nach Mitteilung einen Gutschein in gleicher Höhe aus, der innerhalb eines Jahres nach Ausstellung verwendet werden kann.